OUR HERITAGE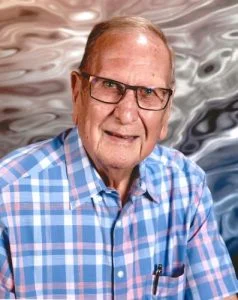 Schulze's Bar-B-Que and Catering is a family owned and operated business located at 1214 1st Street in Rosenberg, Texas.
Alvin Schulze, 1934-2021
Julius Dietrick Schulze, the grandfather of the Schulze restaurant heritage, started the long family tradition of being in the restaurant business in southwest Texas since the 1920's. The late Alvin Schulze carried on the family tradition and was in the restaurant business since 1990 until his death in 2021. Alvin's son and daughter, Clifford Schulze and Teresa Schulze-Mielsch, now run and operate the restaurants and catering businesses.
Schulze's is a family-owned business with employees that have been with the family for over 25 years.
OUR RESTAURANT
We offer a wide variety of meats which are barbecued right here at our restaurant, along with a large variety of sides and vegetables that are all made here at our restaurant.
Schulze's has a wide variety of homemade desserts to choose from, and don't forget about our special brewed ice tea.
We cater a variety of functions including: corporate luncheons, corporate picnics, weddings, anniversaries, quinceaneras, birthdays, schools and churches. Come by and visit Schulze's and let us satisfy your appetite!
OUR MENU
BBQ MEATS
SERVED AS: SANDWICH, PLATE, BAKED POTATO OR NACHOS
Sliced Beef, Smoked Ham, Pork Ribs, Sausage, Turkey, Chicken, Chopped Beef – see *menu
HOMEMADE SIDES ORDERS
Potato Salad, Pinto Beans, Carrot Salad, Cucumber Salad, Cole Slaw, Green Beans, Baked Beans, Baked Potato Salad, Mac & Cheese, Fried Okra, Buttered Potatoes, Whole Kernel Corn, Blackeyed Pea Salad, French Fries, homemade bread – see *menu
HOMEMADE DESERTS
Peach Cobbler, Pecan Pie, Apple Pie, Chocolate Cake, Buttermilk Pie, Cherry Pie, Chocolate Chip Cookies – see *menu
TAKE OUT PACKAGES
Serves 4 to 50 – see *menu*
DELIVERY BY DOORDASH
Available during our normal business hours!